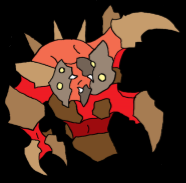 Kagor Horde
the ever hungering Kagor and on the killing march to destroy all life. Half rock and half flesh and in no need of rest they lurch into battle!!
units marked A are the Kagor lords. high in leader ship and have fear ability. and have high health and damge
Units marked B are Kagor Fighters. medium damage and medium health
Units marked C are Kagor Grops. they are week damage and health but explode on death
Units marked D are the Brood mothers and can spawn Kagor fighters. they also have HUGE health and medium damage... or week, your pick.
side not: if these guys are off in any way pls inform me! thanks :D
Download
Click download now to get access to the following files: